Medicinal Herbs: Thankyou to Charlie, who wrote in asking about Black Walnut as a restorative herb for tooth enamel.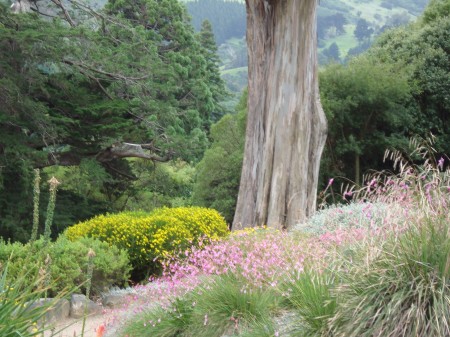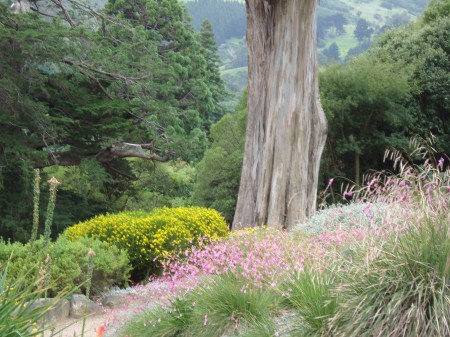 Photo taken at Dunedin Botanical Gardens by Merrilyn on Holly's camera.
Restorative Diets such as those used for cancer, arthritis, multiple sclerosis and other diseases, have proven successful in many cases, for restoring tooth enamel.  Often, people have discovered that their teeth have repaired themselves whilst following a strict dietary and cleansing regime to treat eczema, psoriasis, or a life-threatening disease.
However, there are some specifics which are helpful in keeping tooth enamel healthy, and even in repairing tooth enamel.  Black Walnut is one of them.  Comfrey is another.  Prickly Ash is another.  Nettles, called 'Stinging Nettles' are another.
So what is it about the Black Walnut,  the Juglans nigra, which gives it such a great reputation for facilitating healing, including the regrowth of tooth enamel?  Louise Tenney who wrote the book 'Today's Herbal Health', 1983, gives a summary of the healing attributes of the Black Walnut, in which she includes its ability to heal tooth enamel.
Valuable Minerals in Black Walnut:  For a start, Black Walnut Husks and Leaves are rich in important healing minerals.  Some of these, according to Louise Tenney, are organic iodine, magnesium, manganese,  Vitamin B15, silica, iron, calcium, potassium and phosphorous.
Iodine, especially, is a natural anti-bacterial, which would make Black Walnut helpful for the teeth.  Iodine helps to keep harmful germs in the mouth at bay. So the use of Black Walnut and other herbs which have a high organic iodine content, will help to kill off those germs which eat away at the teeth.  In this sense, Black Walnut would be very helpful for the restoration of the tooth enamel.
Silica is another important mineral which helps to keep harmful germs at bay, as well as having an important function in building strong teeth, bones, hair and nails.  Silica is found in the Black Walnut husks and leaves, as well as in Comfrey, Stinging Nettles, and Prickly Ash.  Comfrey is one of the richest sources of silica, which is a good enough reason to have the plant brought back for the general public to use again:  At present, many countries have banned comfrey because the drug companies have convinced governments that it can cause cancer and should be banned.  But this is really so that they have the monopoly on all the healing ingredients contained in comfrey.  People have been using comfrey as a healing herb TO GOOD EFFECT for thousands of years.  Stinging nettles are another rich source of silica, but commercial herbicides and people's desire to control our road-side verges have almost put this vauluable healing plant into extinction.
Avoid Chemcials including Food Additives: Of course, it is not enough to simply use Black Walnut tincture, or another iodine product, on a daily basis.  For Black Walnut tincture to be effective on the teeth, you would need to have a nutritious diet, with plenty of protein, green vegetables, and plenty of raw salad material to keep the teeth clean and the saliva alkaline.  The same goes for using Comfrey in the diet, or Nettles, or Prickly Ash rubbed onto the gums and teeth – You need to be following a sound and healthy diet, rich in green vegetables both raw and cooked, with adequate protein, and little or no sugary foods, for the teeth to restore themselves.  You also need to avoid any harmful chemicals such as those food additives which are put into all sorts of packaged food these days.  Even breads contain preservative, which are very bad for the teeth as well as the general physical, mental and emotional states of well-being.
Cleansing With Castor Oil:  Periods of cleansing, where raw foods are eaten for a day, or several days, depending on the advice of your health practitioner, can be helpful in removing toxins from the body.  Ridding the body of toxic chemicals, and avoiding contact with chemicals, can help the general health as well as the health of the teeth.  Jacqui Davison was following the cancer-cure outlined by Dr Max Gerson, who cured many people of cancer during his life-time.  Castor Oil was one of the most important ingredients of his cancer cure.  Dr Gerson's diet for reversing cancer also healed the tooth enamel on Jacqui's teeth.  However, it must be remembered that Jacqui followed this diet with its rigorous cleansing procedures, for almost a year before she realized that her teeth had repaired themselves.  Healing of the teeth takes as long as it takes to heal an invasive cancer, and it requires the same amount of vigilant effort.