Royal Patronage of Homeopathy: King George VI and Queen Mary  were great patrons of Homeopathy.  They named one of their horses Hypericum, which is the name of a well known homeopathic remedy.  King George VI's  'Hypericum' hit the headlines by winning the '1000 Guinea Race' in 1946. The Royals are still great patrons of homeopathy, to which they owe their good health and longevity:   Queen Elizabeth II has her own homeopathic physician.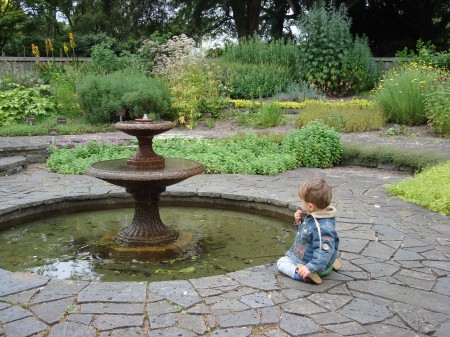 Homeopathic medicine became accepted in Britain soon after Dr Samuel Hahnemann founded it in 1799.   Homeopathic medicine  there became very popular due to the work of one eminent physician who came from the upper class.  This was Dr Florian Quin:  He introduced homeopathy to many of his colleagues, and to his society friends, which included the Royal family.  Although Queen Victoria did not use homeopathy, the Royals before her, and after her reign, have all endorsed the use of homeopathy as a safe alternative medicine.
Dr Quin  met Dr Samuel Hahnemann, the founder of Homeopathic medicine,  after he had graduated from his medical studies.  He became converted to Homeopathic medicine in the early 1820's,  and studied Hahnemann's theories and remedies in depth.  He worked as a physician  in Moravia, a geographical region of Czechoslovakia, where he had success using Camphor for a cholera epidemic.  His successes inspired him to return to Britain, to introduce homeopathy to the upper classes, and to the King and Queen of Great Britain.
Note:  Read Merrilyn's later post from 23 February 2013, entitled:  UN Refuses Compensation To Haiti For Cholera.  The cholera epidemic of 2012 could have been prevented and treated largely with the use of Homeopathic Camphor.  This is a safe and inexpensive alternative to giving people vaccinations for Cholera.
Drug companies fear homeopathy: Homeopathy was never given a chance to gain ground in America, despite there being plenty of interest:  The American Institute of Homeopathy was founded in 1844, but the New York State Medical Society immediately reacted by calling homeopathy 'quackery', and they set out to undermine it.  Drug companies collaborated with the American Medical Association to have the teachings of Hahnemann discredited, just when homeopathic medicine was becoming very popular.  They manipulated the press to prevent homeopathic medicine from competing with their pharmaceuticals.  They achieved this by banning any literature on homeopathic treatments and research, which had the effect of keeping the public ignorant about homeopathic successes.  No research documents were allowed to be published in any medical journals. Doesn't that sound familiar?   In the USA, in 1910, Homeopathy was pronounced to be legally unprofessional and unscientific.  Many homeopathic institutions closed down, and homeopathy there fell into decline.
This pressure from the drug companies and the American Medical Association,  forced the  Hahnemann Medical College of Philadelphia to abandon homeopathic medicine and adopt the ways of allopathic treatment instead. This happened in the 1920's, when pharmaceutical companies were gaining much power, with a stronghold on the medical and drug-watch organizations.
Homeopathy is not the only modality to  suffer from the pressures of the medical associations and the drug giants.  Many other alternative therapists have been driven out of America, or had their practices closed down, because their brand of therapy is declared to be 'quackery' by the jealous drug giants.  Dr Max Gerson, who formulated a successful alternative treatment for cancer, was closed down by the American medical authorities, with the backing of the drug companies.  He escaped to Mexico, where he established a very successful clinic, despite the attempts of the AMA to stop him from practicing his alternative therapies.  His treatments have cured many people of cancer, and are still used today in many health practices.
Homeopathy Opponents Getting Stroppy Now:  There is a very worrying movement at the present time to restrict  or ban homeopathic medicine  in Britain, where homeopathy has been used and widely accepted for over 170 years now.  This movement to discredit and ban homeopathy has its proponents also in New Zealand, Australia, and other more remote places of the world.
I have just read about a demonstration which took place outside Booth's the chemist, in London, on 30th January, 2010,  which was supposed 'to bring awareness that homeopathic medicines have nothing in them'. This statement in itself is highly suggestive of 'quackery' and the placebo, those words 'nothing in them' having been carefully chosen deliberately, to draw a negative emotional response from the uneducated of the public.
Homeopathic 'nothing in them' remedies effect cures in animals, as well as people.  This is fact, and an argument which explodes  the myth that homeopathy is effective only as a placebo. Homeopathy is NOT a placebo:  The correct remedy will cure even infectious diseases, in animals, or people.  And it is quite certain that these medical and drug people who oppose homeopathy have never ever seen an experienced  homeopath to have their case taken, and the correct remedy applied.  They will never have followed a case through from beginning to end, to see what progress has been made.  They do not want homeopathy to be given a fair trial at all, as a fair trial might convert people to homeopathy from allopathic medicine, once they were enlightened as to the  astounding healing qualities of homeopathy. And so they conveniently brand it 'quackery', or 'totally crazy', as one such uneducated and closed-minded doctor in New Zealand has voiced.
This movement against homeopathy wants to see doctors banned from prescribing homeopathic medicines, and Booth's, and all other homeopathic chemists,  prohibited from  issuing homeopathic medicines.
This demonstration against homeopathy which took place outside Booth's the chemist in London, is, no doubt, part of a very well-organized movement which is  driven by the drug companies.  The pharmaceutical giants see homeopathy as competition for their prescription drugs.  If they succeed in getting homeopathic pharmacies stopped from issuing homeopathic medicines, then homeopathic medicine will cease to exist, as without the chemists, we will have no remedies to use.
Homeopathy has been used successfully by homeopathic physicians to treat illnesses of many kinds, including infectious epidemics.  Dr Quin used the homeopathic remedy Camphor to treat an outbreak of Cholera.  Homeopathic remedies can counteract tetanus.  Homeopathic Belladonna can counteract, and prevent, Scarlet fever.  Homeopathic remedies can counteract and prevent many other infectious diseases, removing any need to vaccinate. There are hundreds, if not thousands, of recorded successes from the use of Homeopathic prescribing, but these successes are not reported to the public.  In America, any writing on homeopathic research, or  writings on how homeopathy could be used effectively, were banned from medical magazines and papers.
Homeopathy is under threat today, as is Herbal medicine, and Vitamin therapy, by the same powers which tried to discredit it a century ago.  Now, the suffocating and tenacious arms of the drug giants and their collaborating doctors are reaching out, not just all over America:  they are extending to Britain and the rest of the world  to devour the likes of Booth's, the homeopathic chemist, so that they have a world-wide monopoly on all medicines.
The reason they wish to discredit homeopathy is not that they believe homeopathy to be a placebo with 'nothing in it'.  No, the reason they want to have homeopathy banned is because Homeopathy is a threat to their empire, especially now that we have the internet.  Controversial  topics  such as 'does homeopathy work?' , and the answer: YES HOMEOPATHY DOES WORK,  cannot be kept secret any more.  The drug giants and their collaborating doctors are now desperate to have homeopathy banned,  because it is such a good, safe, cheap, and readily available  alternative to allopathic medicine, and the world is finding out about it as fast as the internet can convey the message.
Sources:  'Australian Sourcebook of Natural Health' by Nevill Drury, 1981 and 1985, published by Pitman's,  Wellington,  New Zealand.
'History of Homeopathy in Britain', by Peter Morrell. Online document.